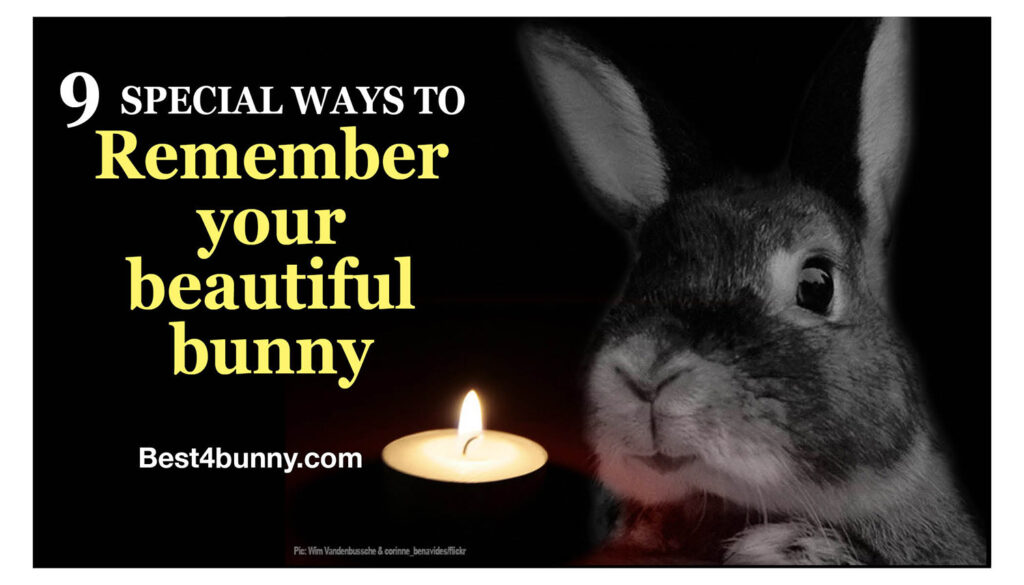 We all know how special our rabbits are to us and how utterly heartbreaking it is when they have to leave us. Never hide how you are feeling, no matter what anyone says! Losing a bunny is a very hard thing to go through. It never gets easier and you never forget. Here we have listed some wonderful ways you can create a lasting memorial to remember your beautiful little bunny friend & how they can help with your grieving.
Make a scrapbook
It really does help to keep looking at photos of your bunny. The longer you avoid looking at photos, the harder it will be when you do finally look at them. Why not collate all your photos and arrange for them to be printed (if they aren't already) and start to make a wonderful scrapbook of your memories. You really will be glad to of made something so special to look back on.
Write a letter
Write a letter to your beloved bunny and include things like what they meant to you and how much you will miss them. This can help so much with your grieving and will be a very special thing to have and to read again when you want to. You could frame the letter along with a favourite photo and hang it up in a special place in your home.
Write a poem
It really can help to write down how you are feeling when you are grieving. Write everything down and when your feeling up to it, try and turn what you have written into a poem. Or right a poem from your bunny, like we have done here.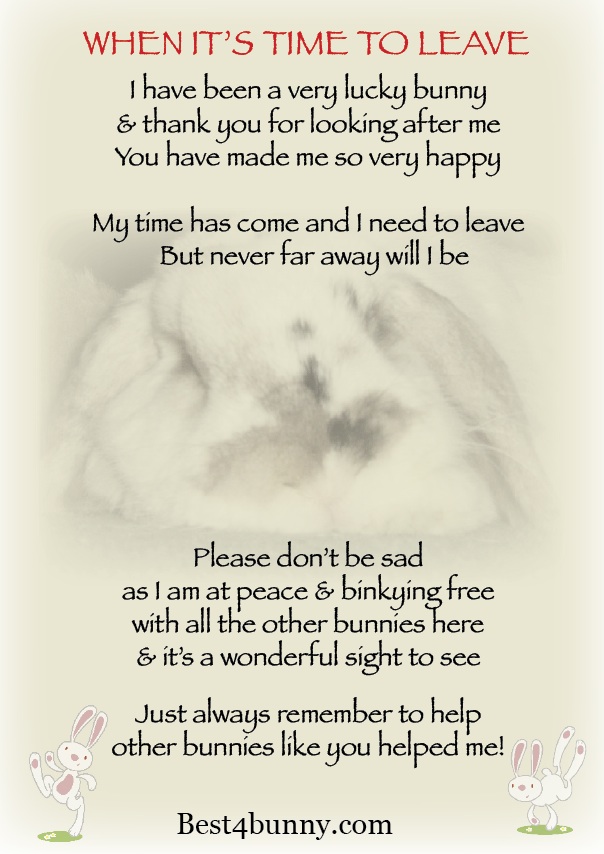 Write a book of memories
Any bunny parents will have some great stories to tell of their times spent together. Start writing down the wonderful stories and memories and why not send it off to be printed (don't forget to send some photos too). It doesn't cost much to get a book printed and it will be something fantastic you can keep forever.
Remember with music
If you have certain records that remind you of your beloved bunny then why not make a CD of all the tracks to help you grieve. Given time you may be able to listen to the music without crying and it will bring a smile to your face as you remember all the happy memories.
Plant a flower or tree in your garden
This is a very popular way of remembering beloved pets & it doesn't have to be one flower or plant, you can make a little memorial garden area especially for them. If you don't have a garden then buy a special houseplant and attach a memorial plaque to the pot.
Have a portrait drawn
Get a professional portrait drawn of your favourite photo of your bunny. There are so many artists out there, all with different styles. Rabbit forums may also be able to help put you in touch with someone they recommend.
Post a tribute to a forum
Post pictures of your bunny along with a tribute on a rabbit forum or your favourite bunny facebook page. Lots of forums will have a special section to remember our beloved pets. To get messages of support from people that have been through the same can really help.
Help a rescue
To make a donation or sponsor a bunny at a rescue or offer to volunteer at a rescue, could all be done in memory of your bunny. Knowing you are helping other bunnies will help with your grieving too.