If you care for rabbits and need to stay at home because of the Coronavirus, then follow our simple advice here on how to look after your bunnies, during this time, and how to look after yourself, too!
Supplies
Try to make sure you have enough bunny supplies to last up to two weeks, if you can.
You could order supplies online, as normal. Just don't panic if you see items sold out. Many companies have a high demand of shoppers at the moment. It doesn't mean they are not going to get new supplies in. There may just be a short time that an item is out of stock.
Do remember to support your local pet shops. Small businesses need your custom.
Some pet shops are offering a delivery service, so you don't have to leave your house. So do check with your local pet shop to see if this is a service they are providing.
If you do find yourself running short of supplies and are unable to leave the house, then maybe a neighbour or a friend or family member could drop these off to you.
If you don't have family and friends close by, then make contacts in your local area. There are many people/groups who can help drop off items, if needed.
Local facebook groups could help put you in touch with volunteers.
If you are self-isolating on medical advice, you need to make sure your bunnies continue to be properly looked after. 
If this will be a challenge for you, then don't be afraid to ask a family member, neighbour or friend, if they can help to temporarily look after your bunnies.
Or contact a local rescue. They may know someone that fosters pets and can help you, if the rescue cannot help themselves.
Enjoy spending more time together
There is NO evidence that companion animals can spread Covid-19 to people, so enjoy your time at home with your furry friends.
Our four-legged friends can help enormously with our mental health and emotions. If we are feeling a little anxious due to isolation, just sit and observe your bunnies and enjoy watching their behaviour. Even it they are taking a nap, it is very relaxing to just sit and watch them for a few minutes. As with all pets, bunnies are very therapeutic and great company!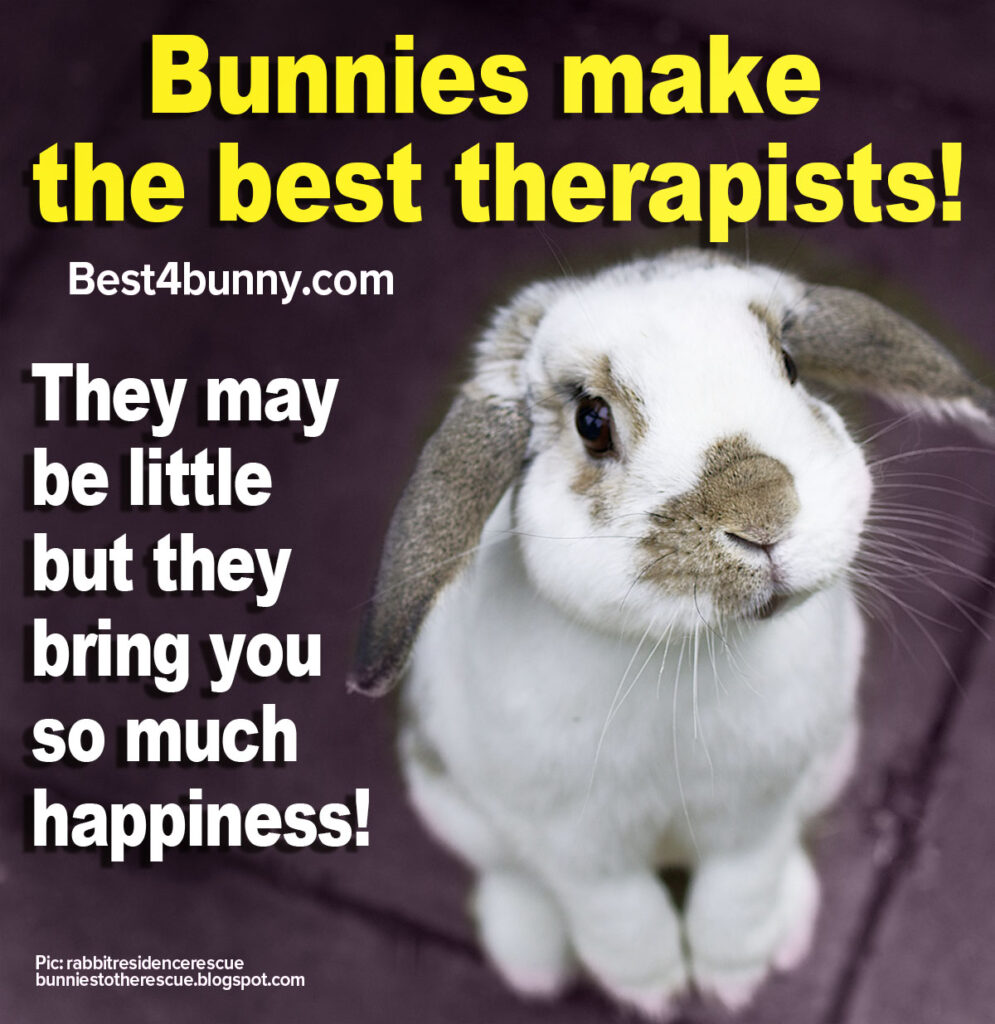 Vets and medical help
Check with your vet what you would need to do if you have an emergency with your bunny, while you are at home self-isolating
Most vets will have a plan of action in place – check their website for information
If your bunny is on medication and you are worried about getting repeat medication, call your vet for advice.
For certain repeat prescriptions, it may be possible for them to post or deliver these to you, or you may be able to purchase a bulk amount.
Make sure your rabbits vaccinations are up to date. If they are due a vaccination in next few weeks, consider brining it forward or talk to your vet on what can be done.
Remember the rescues
Animal rescues will need all the support we can give them over the coming weeks.
Making donations to your local rescue or ordering items off their amazon wish lists to send them, will all help.
Contact them to see how else you can help them through this difficult time.
Handy tips for bunny parents
Hay is the most important food to a rabbits diet. Even if your bunny is not a great hay eater, always make sure they have access to fresh hay 24 hours a day.
You can buy a bale of hay from your local farmer, if you are finding it hard to find supplies. Try asking a local horse riding stables if they have a contact for a farmer that sells hay bales.
Buying a bale will last a long time and it's so much cheaper than hay sold in shops.
If you don't already, start introducing some wild forage foods to your rabbit's diet.
If for any reason, you cannot get supplies of your rabbit's usual vegetables, you can go out foraging, instead.
Always introduce any new foods slowly, so you don't upset your rabbit's stomach.
Make sure you know what wild foods you are picking are 100% safe.
Click here to download our list of safe and unsafe plants/foods for rabbits 

Ideally pick the food from your own garden.
If you pick anything outside of your garden, like in a park or woodland, then wash it before feeding it to your rabbit. This is just incase it may of been sprayed with chemicals or urinated on by a dog or wild animal.
Some great wild foods to pick are: Dandelions, Milk thistle, Plantain, Bramble leaves and fresh grass.
Always make sure it is freshly picked grass, never feed grass cuttings from your lawnmower to your rabbit.
Why not let your own lawn grow longer than usual, in places, to provide some extra juicy grass for your bunnies.
A great item to keep in your rabbits medicine cabinet is Infacol (or if outside the UK – other Infant drops that contain Simethicone) along with a 1ml syringe. This is ideal to give to your rabbit if they start to show early signs of GI Stasis. Give 1ml every hour for first 3 hours.
Click here to read more on spotting early signs of GI Stasis in rabbits and how you can help stop it progressing.

For more rabbit health advice visit our website here
Take your mind off things…
Don't spend all your time at home watching the news.
Instead, enjoy time outdoors in your garden if you can.
Take in the wonders of nature all around you, or listen to some music that makes you happy.
Spend time making some fun toys for your bunnies.
Read our blog here on How to make easy toys that your rabbit will love
If you would like to use your time at home reading all about bunnies (who doesn't?) simply visit our website www.best4bunny.com for lots of bunny tips, advice and some funny blogs, too!
Or put your feet up and read a copy of our Best4bunny Magazine.
Order your copy of Best4bunny magazine here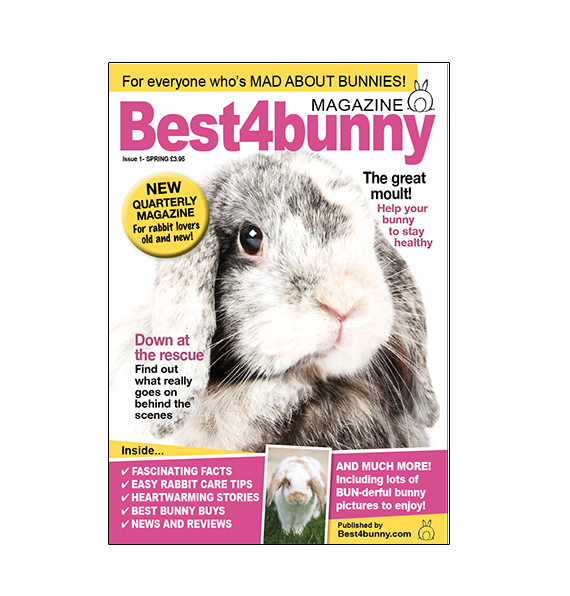 Why not write about your bunny or bunnies and send it in to us, along with some photos. 
Email us at best4bunny@gmail.com or get in touch through facebook.
There are many features throughout the magazine that you and your bunnies can be a part of, for future issues of the Best4bunny Magazine.
Also available is our Best4bunny handbook. 
Full of new ideas, top tips and tricks on keeping bunnies happy & healthy.
And one other thing…
Try not to get on your bunny's nerves too much!
Remember that bunnies love routine.
They love their food served on time, they love their own space and they love taking a lot of naps during the day and need peace and quiet for this.
So respect what your bunny is used to and try not to disrupt their day too much, otherwise you will be getting the 'Bunny Shun' on a very regular basis!